HubSpot CRM: Why You Should Use It and How To Optimize It
October 11, 2022 | 3 minute read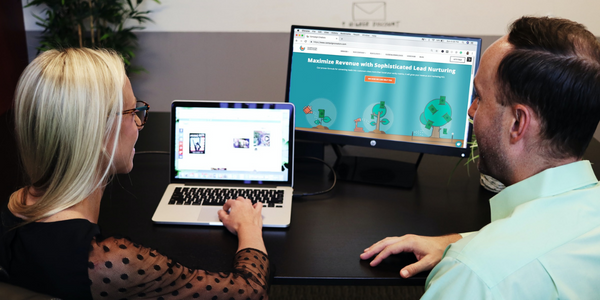 HubSpot's CRM or "customer relationship management" software is one of the most powerful inbound marketing CRM platforms on the market. It can integrate with hundreds of different apps and tools, scale to any business size, and it allows your sales and marketing teams to work together like no other platform. And the best part? It's easy to use.
Check out the resources below to learn more about the features, uses and integrations of the HubSpot CRM, and learn how to make the most out of your investment.
Table of Contents
Why Use HubSpot CRM?
Why We Went HubSpot
Check out this episode of the Company Growth Podcast to learn why Tangible Words Co-founder Alysha Dominico chose HubSpot, and how we make use of each HubSpot "hub" within the main CRM system to maximize our sales and marketing efforts.
The Perfect Pair: HubSpot CRM & CMS
When you start with the HubSpot CRM, you'll quickly be impressed by its versatility, the accessibility of customer support, and the cohesive user experience it provides. But if you're hoping to go further and combine your CRM with content and/or website design all under one roof, the HubSpot CMS Hub (content management system) is a spectacular addition to your HubSpot plan. Learn more.
Cohesive Sales & Marketing: Using the HubSpot Activity Feed
The HubSpot activity feed helps make your leads into customers. It allows you to track your leads' interactions with your website and content, and know who is looking at what, when. With all this engagement and activity data, you can more efficiently distribute your marketing and sales efforts to supply potential customers with the content they're looking for, and eventually, make a sale to someone who really knows and needs your product. Learn more about using the HubSpot Activity Feed feature here.
Cleaning Up Your CRM
Your CRM stores a lot of data. The HubSpot CRM makes it easy to clean up and manage your contacts, communications, content and reports.
How To Clean Up Your CRM Marketing Contacts
Have you got way too many contacts that don't seem to engage with your content? Sometimes quality is better than quantity. Check out this blog post to learn tips and tricks for paring down your contact list and getting better engagement rates from engaged leads. It will also save you money on removing unnecessary contacts in your CRM.
How To Clean Up Your CRM Data
CRMs are meant to collect data, but what kind of data they collect is up to you and your needs as a company. Cleaning up your data involves getting rid of duplicate, incorrect or unhelpful data to help you see your company's marketing, sales and service results more clearly (depending on what HubSpot hubs you're using).
In this episode of the Company Growth Podcast, Tangible Words Co-founder Vicky Marrack talks about cleaning up your CRM data for a more efficient, rewarding marketing and sales process.
Interested in having your CRM audited?
Or Perhaps You Want to Learn More on How to Use Hubspot Marketing More Effectively?
TW Blog Sign-Up
Learn more about how to grow your business and improve your sales team process.