Inspire Your Sales Team With These Onboarding and Retention Strategies
June 28, 2023 | 3 minute read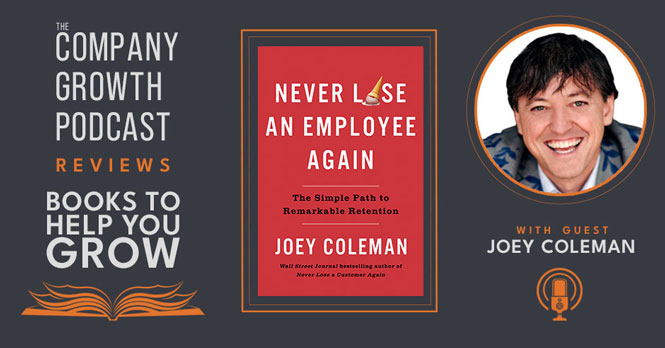 Here at Tangible Words, we help companies improve their sales and marketing operations. Our clients often ask about how they can more effectively hire and train their salespeople and while we have lots of strategies for that, we recently discovered a new book that takes them to the next level.
Joey Coleman is an award-winning speaker and author best known for his book Never Lose a Customer Again, which offers a philosophy and methodology to dramatically increase customer retention. His second book, Never Lose an Employee Again, extends that effective and actionable approach to retaining employees.
Never Lose an Employee Again released on June 27th, 2023, so the book is fresh off the presses!
When we got the opportunity to interview Joey for the Company Growth Podcast, we decided to use the time wisely and do something a little different from all the other interviews he'll be giving. In this episode, he applies his approach specifically to onboarding, retaining, and inspiring salespeople. It's truly a masterclass on the topic that you won't find anywhere else.

Start Hiring Better Salespeople with These Two Onboarding Strategies You Can Implement Right Now
The work of retaining your salespeople starts earlier than you might expect .
Joey breaks down an employee's first 100 days into eight distinct stages: Assess, Accept, Affirm, Activate, Acclimate, Accomplish, Adopt, and Advocate. Each starts with the letter A because, if you're doing them all well, your company will get "Straight As".
In the assess phase, prospective salespeople are sizing up your company before they even decide to apply. To attract the best candidates from the get-go, Joey recommends revising your job postings to actually make them interesting and persuasive to the kinds of salespeople you want to attract. Here are a couple tips you could implement right now:
Rewrite the job description so that it actually describes the job, expectations, and work environment in a way that would resonate with a top salesperson. Consider including a "day in the life" story, or videos of other sales people on the job.
Include the compensation structure in the job description. Yes, it's controversial but Joey is passionate about this point because salespeople know what they will or won't accept. By being transparent, no one is wasting their time.
Listen to the podcast or read Joey's book to find out more about the eight phases of employee onboarding.
Listen to Our Business Podcast and Learn from the Best Business Books
On the Company Growth Podcast's limited series: Books to Help You Grow we read some of the world's best business books and share their best lessons and insights so you can decide if they're worth reading for yourself.
To browse more episodes by topic, visit the Company Growth Podcast webpage.
Let's Grow. Apply for a Spot in Our Free Sales Growth Program
References: https://www.netsuite.com/portal/resource/articles/human-resources/employee-retention-benefits.shtml
https://www.apollotechnical.com/why-onboarding-is-important/
TW Blog Sign-Up
Learn more about how to grow your business and improve your sales team process.