The Best Tradeshow Sales Plan Tips & Tricks
January 17, 2020 | 3 minute read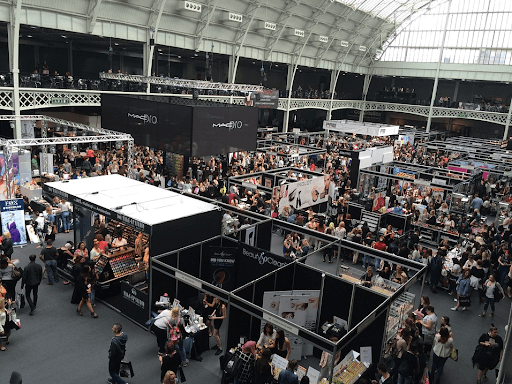 Tradeshows these days are not as much about closing deals on the spot as they are about making connections, identifying the challenges of leads, and educating them about how you and your product can help them.
But the cost of that day out of the office can be horrible. To start, you are forced to delay action on all the desk work you were already in the middle of when leaving for a conference or tradeshow. Then, you usually return with a pocket full of business cards and notes that you can't a) make heads or tails of b) can't figure out how to prioritize or c) don't understand how to take effective, respectful action on any of those "leads" — after all, the people you met at the tradeshow were OOO too!
If you're heading to any trade shows in your industry this season, you need a solid sales plan — including how to make sure the day out of the office brings immediate and long-term value to your organization.
Tangible Words' CEO, Alysha Dominico, has tons of experience with building strong connections and driving future sales with trade shows. Here are 7 of her best tips for planning your trade show strategy.
Don't start with a pitch. People are tired of being pitched at every time they step into a booth. Focus on listening: get to know each person, build a relationship, learn about their experience, and identify their challenges.
Book meetings right there. Even a 15-minute follow-up meeting during the tradeshow — or in the future — keeps you organized. Use that time to help them find a solution to an immediate hairball you discussed at the tradeshow.
Have an email template ready. When you have a shell of an email ready to go that you can send from the show, you have a place where you can make notes about the top 2 things you discussed in your trade show interaction. Using HubSpot's Snippets or Conversation templates you can directly target regular hairballs people usually mention at your booth with ready-to-go email including built-in links to helpful content. Then, you can customize the email template for that person, and email them that day. When you show you listened well and are prepared to keep in contact, not only do you have a better chance of staying fresh in their mind, you show that lead that they are important.
Use the HubSpot Business Card Scanner. The HubSpot business card scanner connects to HubSpot and instantly creates new contacts in your CRM. It's the quickest way to start tracking interactions with each connection you make.
Start a deal in your HubSpot pipeline for every great connection made. This way, you'll be able to easily prioritize later and chase the most promising deals and leads.
Get on social media and use the conference hashtag. Interact with other attendees, and where possible, ask if you can meet up with them. If you can't meet up, have a unique and helpful landing page addressing industry-specific challenges and share it with the conference hashtag.
Align your sales & marketing team. Sales and marketing are stronger together — get them working together in HubSpot. If everyone has full access to all of your contacts and interactions, it'll be easier for both teams to work together. They can both make the other team's job easier, and deliver much stronger results when they're working towards the same goals and targeting the same leads. Don't forget to set up meaningful CASL or GDPR processes for your team, as well as follow-up processes that work for everyone.
Are you heading to a few industry conferences this year? Alysha can help you implement her successful sales techniques for your team.
References:
https://www.hubspot.com/products/business-card-scanner-app?__hstc=131646480.1f1b0442ead745e5ea1ed8b43fae0ed0.1571092379721.1575431332405.1576213269159.20&__hssc=131646480.8.1576213269159&__hsfp=4274043526
https://knowledge.hubspot.com/conversations/use-snippets
TW Blog Sign-Up
Learn more about how to grow your business and improve your sales team process.