Want Better Results? Look At Your Marketing and Content Creation Like A Digital Storefront
March 03, 2020 | 6 minute read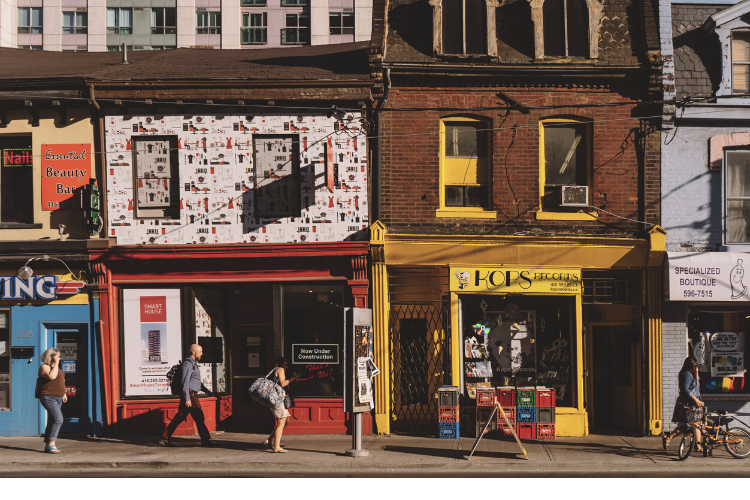 HubSpot has a great analogy for looking at marketing. They say:

If a website is like a storefront and your content is the experience of walking around the store, social media is like a pop-up shop for your business. It looks and feels like your storefront, only your content is found in a new place with lots of foot traffic.
Let's imagine this example as someone looking for a new pair of shoes. We'll look at your company marketing like a shoe store.
Imagine your ideal customer is walking down the street when they start thinking, I could use a new pair of shoes. If they're on a busy street full of competing shoe stores, you'd want to be the first store they enter. Search Engine Optimization (SEO) helps make sure your website is the first to come up in a list of search results. This is the equivalent of being located right beside a neighbouring shoe store. You want your customer to enter your store before your competitors'.

If they start to look around and don't immediately find what they're looking for, they'll turn around and walk out. According to Crazyegg, if you haven't generated interest in 15 seconds or less, visitors will abandon your site.
How to Stop Your Storefront (Website) from Losing Sales
Know who you're targeting and who you want to come inside. When your ideal customer first lays eyes on your website, the content should signal it's been written for them, in a similar manner to how they speak. You can accomplish this through the use of detailed buyer personas.
2. Set websites up for your audience. This way, your store is designed with their motivations and goals at the forefront. You can speak sympathetically about their pain points and demonstrate how you can help achieve their goals, i.e., comfortable running shoes. Your site should be easy to navigate, with an obvious path to your offers (using a comprehensive CMS can help with this). There's a reason you see those big SALE signs positioned throughout shoe stores. They provide an obvious path to where you want your visitors to go and an easy call to action (CTA).
3. Approach customers with a service-first attitude. Nobody likes a hungry salesperson hovering around, waiting to sell you something. Sure, you might have lots of good advice to give your visitors, however, 70% of buyers fully define their own needs before reaching out to a salesperson. Instead, you can use content marketing to provide your leads with information that helps them educate themselves before coming to you asking for a specific shoe size or another colour.
4. Keep your site stocked full of quality content. Think about it. If you walk into a store, look around and see bare shelves, you won't be staying long. Fill your site with helpful content designed to help. HubSpot CMS is user-friendly and designed to help you do this.
5. Keep content up to date. Like shoe fashions, things go out of style, become outdated and have expiry dates. Don't be afraid to take down content that is no longer relevant or useful. Make sure to update your blog 11-16 times a month and have at least 400 articles in your archive. This may sound like a lot and it's overwhelming thinking about all the good content you need, but take a deep breath. You can create high-quality content 6X faster by outsourcing your inbound marketing efforts.
Focus On Customer Experience To Make More Money

Between 70-96% of the people who leave your site will never return. The more website content your visitors read, the more you become an expert in your area, resulting in more sales. Those that tend to stay longer on your website, likely find your content helpful (which demonstrates you understand their search intent). This helps you build trust and increase the chance your prospect starts engaging with you. Once you've solved your audience's initial query, you want to keep visitors on your site as long as possible. By understanding where your customer is in the sales journey, and what questions they have, you can answer those questions on your website and plan out blog posts using these topics. Your goal is to get your visitor to forget the long list of search results after your site.

By now in your shoe store, your customer wants to move to the next step. They want to talk to a member of your sales team to try out your product or service. Your content should easily guide your site visitor to the next step you want them to take. In most cases, a CTA is positioned in an attention grabbing spot. Your CTA should communicate 3 things:
your offer;
the action you want them to take; and
a reason to act now (incentive).

Let's say, your visitor has now bought your shoes. Great! If you served them with an excellent experience, they may return again to purchase from you, or even better, tell their friends and colleagues about your business. Things like positive reviews let visitors know what they can expect with your company.
How Does Social Media Fit in?
Social media is like a digital pop-up shop for your company.
Let's imagine, just down the street from your shoe store, the road ends at a nice little beach. Visitors walking by are drawn there by the allure of the sand and surf and wade in on a hot day. When they climb out, the last thing they want to do is pull shoes on over their wet, sandy feet.
Just as they're thinking how convenient it would be to have a pair of flip flops, they see your little pop-up shop, offering just what they need. You're now found a way to reach new customers you wouldn't typically be able to serve and now you can make them aware of your full shoe store down the road.
Social media meets your customers where they're at. Research shows we spend an average 142 minutes per day on social media. Helpful content, conveniently located on your social media, helps serve the right people, just like your website, all in one space. Like your little pop-up shoe store, It's a convenient place to serve your customers and can point to your website, so customers can browse your full line of offerings.
Manage Your Company Marketing With HubSpot CMS + Marketing Tools
With HubSpot CMS (content management system) and marketing tools, you can publish your content, plan social media and oversee your entire contact database, all in one place. Just like the successful shoe store, you too can attract and retain loyal customers. Join the thousands of other companies using HubSpot today.

References:
https://blog.hubspot.com/marketing/content-marketing-plan

https://www.digitalinformationworld.com/2019/01/how-much-time-do-people-spend-social-media-infographic.html

https://www.themarketingblender.com/statistics-boost-sales/

https://www.entrepreneur.com/article/307738

TW Blog Sign-Up
Learn more about how to grow your business and improve your sales team process.