Helping Businesses Reopen: Economic Recovery in COVID-19 Pandemic
August 25, 2020 | 3 minute read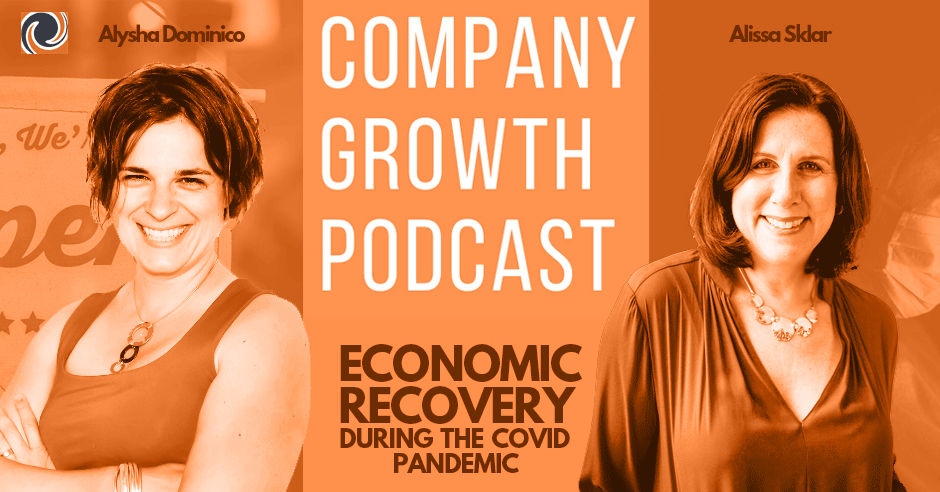 As businesses struggle to reopen safely and many parts of the world continue to deal with rising or flatlining case numbers from the COVID-19 pandemic, many economic development professionals and workforce development officers are wondering how to best help the small businesses in their communities. Tangible Words' Alysha Dominico reached out to an expert in the field for her take on the situation.
Listen to Episode 4 of the Company Growth Podcast with Alysha Dominico
In this episode of the Company Growth Podcast, Alysha discusses how best to support local businesses in their reopening, from an economic development perspective, with guest Alissa Sklar. Alissa is the vice president of marketing for GIS Planning, a company that provides online site selection data tools to help new, expanding, or relocated businesses pick the best location for their business. Check out ZoomBusiness.com!
Near the beginning of the episode, Alysha explains her own perspective on the importance of strong economic development data and how that data relates to the reopening process: "I see this as a critical piece about company growth because companies need to know what's available to them to grow, and the economic developers who support them need to know what tools are available to help companies grow locally."
Just because restrictions on businesses are lifted in some places does not mean that the business's COVID-19 woes have ended.
Even if a business is allowed to reopen and has found a way to do so safely, it doesn't guarantee that customers will feel safe and willing to visit the shop.
And that's assuming that the customers of that business feel comfortable parting with their disposable income during COVID in the first place. This creates a unique challenge for business owners and economic developers alike.
See what other communities are doing to help other businesses reopen and recover economically:

Listen to this episode of the Company Growth Podcast to hear Alysha and Alissa discuss:
How collaboration and creativity are allowing small businesses to find new solutions to COVID-specific problems;
The #1 issue for economic development professionals during COVID;
The advantages small businesses can have over Amazon Prime during a pandemic;
Finding local suppliers for manufacturers who can no longer get the parts they need from other countries,
What exactly the Australian phrase "head down, bum up" refers to,
Why

websites are more important

than ever during COVID,
GIS's innovative products,

ZoomBusiness

and

ZoomProspector

,
And a bunch more to consider with your community's economic recovery.
Have a listen to the episode (Season 1, Episode 4) and, if you like what you hear, check back for more episodes of the Company Growth Podcast coming twice a month!
Listen to the Company Growth Podcast for Thoughtful Business Ideas
Alysha's podcast is a new Tangible Words initiative, so if you have ideas for topics or interviewees, constructive criticism, or just want to chat about what you heard in the episode, feel free to drop us a line!
To browse episodes by topic, visit the Company Growth Podcast webpage.
Ready to Grow? Apply for a Spot in Our Free Sales Growth Program.
References:
https://www.gisplanning.com/products/zoombusiness/overview
https://www.gisplanning.com/products/zoomprospector/overview
TW Blog Sign-Up
Learn more about how to grow your business and improve your sales team process.