The Company Growth Podcast: Using Reddit To Grow Your Business
November 10, 2020 | 4 minute read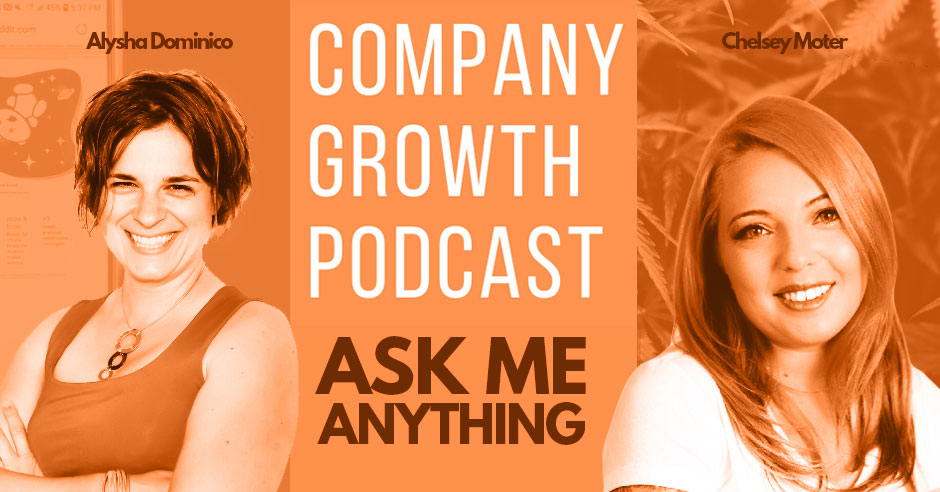 In inbound marketing we talk a lot about the importance of social media marketing as part of your inbound growth strategy, and that usually includes Facebook, Twitter, Instagram, and LinkedIn. Email blasts and blog posts are extremely useful tools as well. But the big social media platforms aren't the only place where internet users congregate and share information online.
One platform that you don't always hear marketers talk about is Reddit. Yet Reddit can be a powerful marketing tool if used correctly and in the right circumstances. Reddit is the 6th most visited web page on the net and Reddit's especially useful if you're promoting to Americans, as people from the U.S. make up 46.8 percent of its users. The site has clout, too, as Barack Obama did an AMA on the site in 2012, and Reddit has hosted countless other celebrity AMAs over the years as well.
Use Reddit AMAs as a Powerful Inbound Marketing Tool
In the 9th episode of the Company Growth Podcast, Alysha Dominico's guest is Chelsey Moter, a fellow inbound marketer who owns Cannack, a marketing company dedicated to promoting cannabis start-ups and the cannabis industry. In the episode, Chelsey explains what an AMA is, how to get one organized, and situations where hosting one is useful.
What Is a Reddit AMA?
A Reddit AMA, short for Ask Me Anything, is an online meeting where any Reddit user can ask questions of the person hosting the AMA, where other users can vote on the questions they most want answered. These questions then rise to the top, where they are more likely to be answered by the AMA host.
AMAs quickly grew in popularity because, unlike a traditional celebrity interview, you can ask strange or niche questions (like the classic "Would you rather fight a horse-sized duck or a hundred duck-sized horses? To which Obama answered the horse-sized duck, a question that would definitely never come up in 60 Minutes.) AMAs also became popular because it's not just celebrities who do AMAs. Anyone with an interesting life story, or business, can do an AMA and come out with a successful experience.
One thing companies thinking about doing an AMA should be wary of, and perhaps why marketers sometimes avoid it, is that Reddit can be hostile to self promotion. Self promotion goes against the Reddit creed. Of course, there are ways around this, like if your company is doing something particularly interesting, or your company is in trouble and its stockholders want to ask questions in a public forum, or if your company works in an industry popular with Redditors, like cannabis.
Always remember that the last A in AMA stands for "anything," and though you can avoid certain questions you don't want to answer, the room can turn on you if it appears that you are avoiding the questions your AMA guests most want to know. Look no further than the disastrous and infamous Woody Harrelson AMA for an example of what not to do.
But don't let that discourage you. Like any form of marketing, you just need to know when it is appropriate to do an AMA, and when it will have the most positive effect. If you want to learn more about the AMA process and find out if hosting one will work for your company, check out episode 9 of the Company Growth Podcast with guest Chelsey Moter.
Listen as we discuss:
The process of starting an AMA,
Which companies an AMA works best for,
The consumer habits of cannabis buyers,
The #1 rule of SEO,
And more!
Listen to Episode 9 of the Company Growth Podcast
Check out Episode 9 of the Company Growth Podcast streaming now on your favourite podcast platform!
To browse more episodes by topic, visit the Company Growth Podcast webpage.
Ready to Grow? Apply for a Spot in Our Free Sales Growth Program.
References: https://websitebuilder.org/blog/reddit-statistics/
https://www.theatlantic.com/technology/archive/2014/01/ama-how-a-weird-internet-thing-became-a-mainstream-delight/282860/
https://www.theatlantic.com/politics/archive/2013/01/president-obama-would-choose-to-fight-the-horse-sized-duck/267071/
https://observer.com/2012/02/woody-harrelson-and-the-no-good-very-bad-reddit-ama/
TW Blog Sign-Up
Learn more about how to grow your business and improve your sales team process.