How Tangible Words Can Make Economic Development Recession Proof
April 04, 2019 | 5 minute read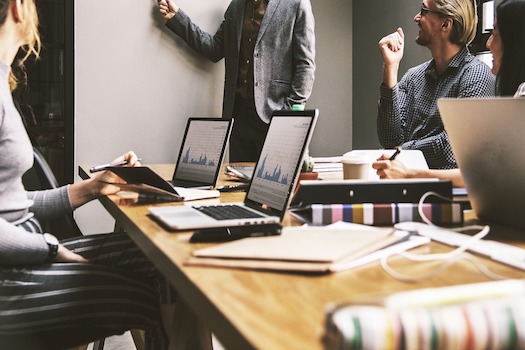 You've likely been hearing about the risk of a recession. Hard financial times may be ahead for all industries, including economic development, and you need to keep your council and stakeholders on board. You're certainly not the only business leader or EDO who's unsure about the financial climate in Canada. Rising interest rates, the current oil situation in Alberta and closing of the GM plant in Oshawa, Ontario have a lot of EDOs concerned about how to ride out the tough financial times ahead.

You're likely concerned about what a possible recession could mean for your community, so (maybe) you're considering cutting your marketing budget.
Cutting your marketing during a recession actually jeopardizes your long-term market share, which means your investors won't be able to find you and your community.
When you're looking at your economic development office expenses during tough economic times, your advertising and marketing budget might seem like one of the easiest expenses to cut. But remember, investors and business owners still notice advertisements during an economic recession. Companies that advertise the most will reap the greatest rewards when the economy finally turns around.
According to a study from the WPP Group's Center for Research and Development, companies that increased their ad spending by 20 to 100 percent during a recession saw an average gain of 0.9 percent of the market share, while companies that cut spending only gained 0.2 percent of the market share.
Consistent and persistent marketing (aka inbound marketing) is the only kind of marketing that truly works, especially during tough economic times. And we have good news. You can recession proof economic development with inbound marketing, and Tangible Words is here to help you do it.
4 Tips to Make Economic Development Recession Proof
1. Don't cut marketing.
Advertising expenses are often the first thing business leaders cut when times get tough. On the surface, this seems to make sense. Advertising is a discretionary cost, and if you cut that cost you can potentially survive on the customer base you have already built.
In reality, slashing advertising expenses can be extremely dangerous. If competing regions are advertising when you aren't, they can take market share from you and hurt your competitive position. You have to save costs without detracting from your ability to bring in new customers at a future date. Some degree of customer turnover is inevitable and if you're not marketing to bring new investors and businesses in the door, your region's success will almost certainly decline.
In time of recession investors don't want to take as much risk, and building your brand (i.e., your community) becomes more difficult. Inbound marketing helps to keep your community top of mind, which helps you attract investors more easily, increasing your market reach without expensive ad campaigns.
2. Instead increase communication with your customers.
Digital communications keep your investors informed about what's happening in your community. Using many communications channels ensures your investors won't forget about you during tough economic times. And all the techniques below run in the background, so you can get on with your busy schedule of helping the businesses in your community affected by economic recession.
You're providing your investors with valuable investing information so they don't need to go out and search for themselves. A win-win for you and your investors. Through multiple channels your investors continually have you top of mind, which is key to riding out any economic downturn.
Social media marketing, such as Facebook, Twitter, and Instagram keep your community top of mind with your investors through multiple channels that are popular and easy to find.
Email marketing, with regular campaigns provides your investors with valuable, up-to-date information about what's happening in your area right in their in-box. What your investor's need to know to make their investing decisions is only one click away.
Calls-to-action, created regularly on topics your investors want to know more about. CTAs add downloadable, in-depth content your investors can study on the go.
Blog posts, provide regular, valuable information to your investors on topics they need to know more about to make their financial decisions every day.
3. Networking
You already have a natural network in place: your family, friends and people you associate with personally and professionally. Your intentional network, however, is the group of contacts you specifically recruit, maintain and nurture. Intentional networks are win-win relationships based on rapport, trust and mutual benefit. There are 3 main types of people you need to help remain recession proof:
Decision-makers: Those who provide you with direct leads, direct work or connect you to contacts who can.
Information sources: Those who give you valuable insight into companies, industries, trends and people you need to know about.
Cheerleaders: Those who will give you references, testimonials and vouch for you, and that all-important support and encouragement.
4. Under promising and over delivering.
Business owners who strive for excellent customer service and satisfaction do so by giving more than they say they will to their customers by exceeding customer expectations. Simply put, when you deliver more than what you suggested to your investors, and more than what they were expecting, your company's perceived value increases. With increased value, you are much more likely to get referrals and additional sales.
You have so much to do as an EDO. Hiring an award-winning inbound marketing agency like Tangible Words gives you the benefit of their marketing experience. Tangible Words has grown into a leading Canadian inbound marketing agency.
Tangible Words can help you create marketing and sales strategies you can track, and are easily repeatable, to allow you to prove to your investors your marketing efforts are working. For example, blog posts with strong search engine optimization (SEO) do that because they're always there ready to be found by your investors.
We help our customers achieve shorter sales cycles, better quality leads, and have increased website sales for clients by over 300%. We are a dedicated team of university trained professionals who deliver on measurable results and enjoy forming lasting partnerships with our clients. We're committed to long-term success and continued growth of our clients.
References:
https://www.narcity.com/news/experts-say-that-canada-is-at-risk-of-experiencing-a-recession-in-2019
https://www.forwardlevel.com/four-reasons-not-to-cut-your-marketing-budget-in-a-recession/
https://www.careerattraction.com/intentional-networking-how-to-connect-with-the-right-people-and-keep-them-interested/
https://www.entrepreneur.com/article/293994
TW Blog Sign-Up
Learn more about how to grow your business and improve your sales team process.