Don't Buy Design, Development, and Website Content From One Company
August 12, 2013 | 5 minute read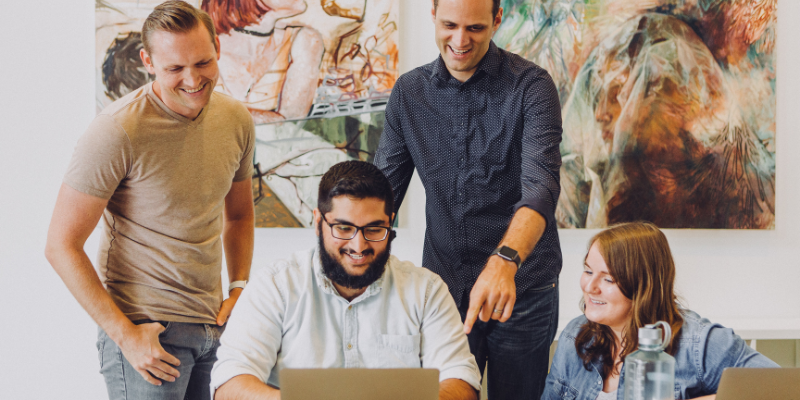 Alysha
, our Operations Manager here at Tangible Words, recently made friends with Armand of
Moveable Online
. He saw a post of ours on Linked In and got in touch to network with us.
Moveable Online specializes in development. They don't do website design because they recognize design is a whole other skill set and so, a whole other industry.
They have a great point and inspired us to think about the website content clients we work with and what their experiences have been while updating their website design and website content.
Like Moveable Online, we concluded that the best course of action is not to bundle content strategy and website content with website design and development. Finding a specialist company to address each one of your company's needs - and preferably one who can also train your staff to manage the in-house marketing you need to do on a daily basis – is always going to give you the best results to improve your website.
You want people who are dedicated to best practices in their field, not those who are focused on trying to be a one-stop shop. Being a one-stop shop usually means doing an 'ok' job in all areas, rather than paying attention to the details which result in a superior professional and knowledge-based final product.
Table of Contents
1. How to Build Up Your Website Content
i. Your Website Content Best Practices Guide
ii. Website Content Architecture: Which Webpages? Product vs Service-based
iii. Don't Break Your Online Sales Cycle
iv. Writing Website Content In A Way People Can Understand
2. How to Use Website Content to Get the Attention You Want
i. Is Your Website Content Grabbing All The Business You Can?
ii. Content is Cash: So How Good Is Your Website Content?
iii. Hired a Website Content Writer? 5 Steps to Help Them Help You
3. The Rules and Rewards of Website Content
i. Website Content Accessibility - Guidelines all Companies Must Follow!
ii. Keep Your Website Content In Line With Google Rules
iii. Your Website Content Exposes Your Business
i. Case Story: Certatech Telecom Professional Service Firm Website Content
ii. Google Glass - Is This Why Website Content Is Changing?
iii. Case Story: A Website Content Rewrite
How to Build Up Your Website Content
A Website Content Best Practices Guide is your go-to document for making sure your website content continues to give you the best return on your website investment. Even better, you can pass the website updating tasks onto others in the office and know the style and message remains consistent.
Struggling to visualize your potential website because steeper you're a service-based company? There's a big difference between product-based companies and service-based companies when it comes to figuring out which pages and subpages you need on your website. Tangible Words can help!
Create a website that strengthens the sales cycle rather than a website which gives your audience a creative burden.
Using simple language doesn't simplify the work you do and the effort you put into it, it just gets the message out clearly so others can be impressed with you too. Write your website content in a way people can understand, or hire Tangible Words to do it for you!
How to Use Website Content to Get the Attention You Want
Is your website doing an optimal job of transforming browsing or even interested parties into customers? Make your website work for you with Tangible Words.
Success depends on the quality of the content you offer on your website. Ensure that the quality of your content reflects the quality of what you're offering. Don't know how to start? Let Tangible Words help.
Here are five steps to follow so you can get exactly what you want from your new website copywriter.
The Rules and Rewards of Website Content
Remember your web developer should set up your website to be accessible. If they don't, pick a company that will. Better yet, hire Tangible Words to ensure that all your website needs are met.
With a rapidly expanding online ecosystem, its important to stay knowledgeable about Google's changing rules. Tangible words stays on top of and follow Google's published documents on Search Engine Optimization (SEO) best practices.
Does your business' website reflect your values? A company who believes in making a product which is simple and easy to use for business owners should have a website that's beautiful, simple, and easy to navigate. Learn more with Tangible Words.
Case Stories
After working with Tangible words, Certatech could move forward as a business with clean, professional content and built-in graphical text, allowing them to attract their dream audience.


With evolving technology like google glass, conversational language when writing website content is becoming even more important on search engines. Keywords and SEO is becoming even more consequential in our fast-paced technological environment, keep up with Tangible Words.

We believe so much in what we do here at Tangible Words that we had to buy our own services. Read the full story!

TW Blog Sign-Up
Learn more about how to grow your business and improve your sales team process.